Which plants live in the urban space of Berlin and how do you detect them? Are they poisonous? Or edible? Can they even heal? How do we use them? Where do they live and how do they survive there? The city pharmacy goes in search of old, almost lost knowledge. The urban space becomes an object of research and a laboratory. What can a plant say about itself and its environment? About the city and its wounds? What does the term migrant plant or pioneer plant mean? Which artistic translations are suitable? How can a living archive be created?
For more than a year, the Stadtapotheke has been conducting intergenerational research: with the Nürtingen elementary school in Berlin-Kreuzberg, the artists Anja Scheffer and Seraphina Lenz, the retired pharmacists Tomma and Heino Luxa and a 456 grade class and their teacher Wiebke Janzen, accompanied by Silke Ballath. The project deals with the research and dissemination of knowledge and seeks to develop new forms of transmission, with research methods alternating between scientific and creative-performative approaches. All of the materials produced is archived and presented in the House of World Cultures as part of "Schools of Tomorrow".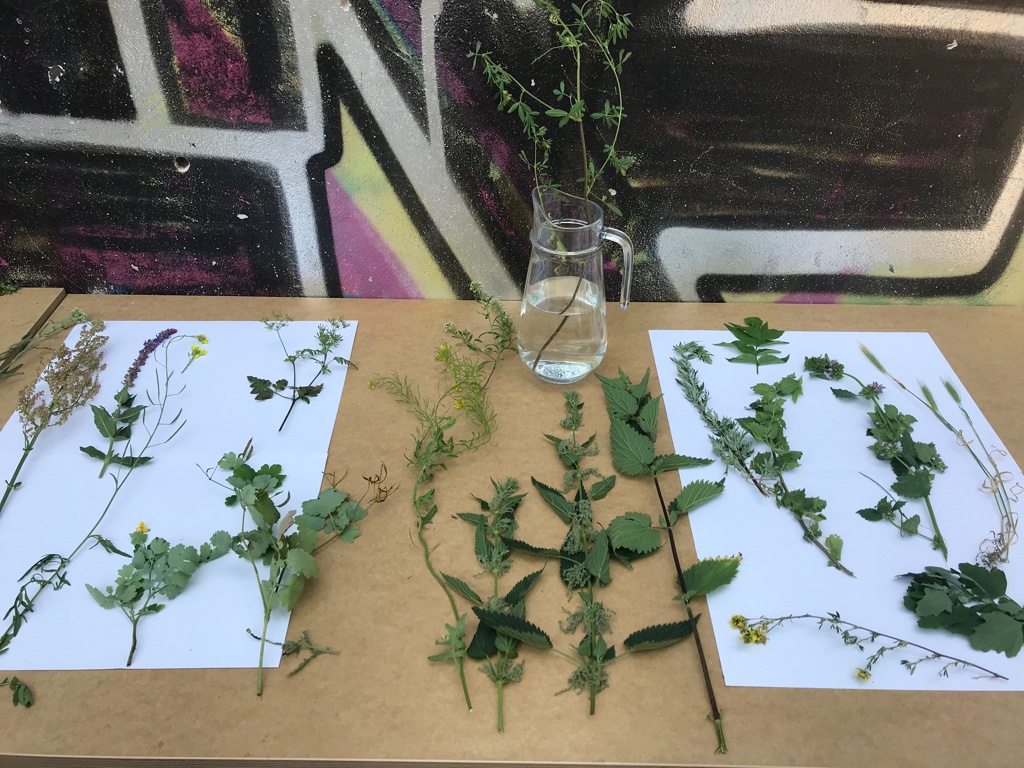 Arising from its year-long research process, the Stadtapotheke has also forged contacts with various partners in the context of Global Roots, an Erasmus+ project. Its approaches, strategies and procedures reflect and develop ideas and suggestions and the experiences are shared with other participants. In addition, the Global Roots project participants are jointly developing a tool for the drawing together and reflection on the respective experiences. Similarities and differences of the respective processes are made visible and negotiable. Proposals for project ideas, collaboration between artists and elementary schools, as well as diverse areas of interest between art and science are published. The collaboration of the participating teams from the different countries informs the way in which the Global Roots project is documented.
The aim of the Global Roots project is to highlight how arts and culture can encourage teachers in primary education to create a sustainable learning environment in which children can reflect and develop their relationship to today's world. Partnerships between people from art / culture and primary school education challenge the mind-set and working processes of both professional groups and develop new approaches to convey to children notions of active global citizenship and sustainable development.
VIDEO DOCUMENATATION (in German language)

The one-year research process of the city pharmacy took place as part of Schools of Tomorrow in cooperation with the House of World Cultures, as well as with the Programm Kulturagenten für kreative Schulen Berlin and as part of Urbane Botanik III: Räume des Gemeinschaffens.